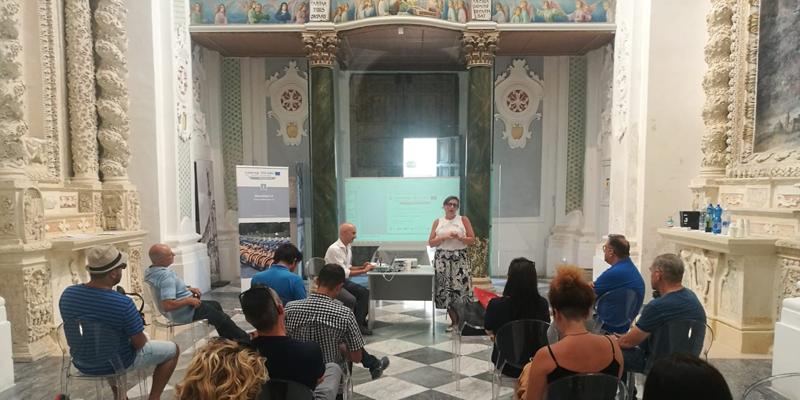 #DynaMob 2.0 workshop in Copertino to stimulate business creation for cycling mobility
Overview
Last 24th July 2020, in the Conference Room of the former Church of the Poor Clares of Copertino, the workshop entitled "How to set up and manage a cycle-based company" took place - an original moment to discuss on economic opportunities that derive from sustainable mobility, included in the activities of the project DynamicMOBILItization 2.0 (#DynaMob 2.0).
During the institutional greetings, the Mayor of Copertino, Sandrina Schito and the city councilor Laura Alemanno emphasized the profuse engagement of the administration in order to obtain smart and green transport's solutions, through a project that has allowed the creation of cross-border synergies. Engineer Fabio Minerva, project manager for #DynaMob 2.0, wanted to stress the relevance of the objectives achieved so far within the initiative as well as the importance of promoting rational, innovative and sustainable mobility, enhancing local territory and its peculiarities.
"Treasures of beauty - stated Laura Alemanno - whose slow mobility can only pay homage, allowing visitors to travel the roads on a bicycle, enjoying the landscape".
Afterwards, an audience of young entrepreneurs, aspiring entrepreneurs and start-ups had the opportunity to discuss with Cosimo Chiffi, an expert in transport economics and Rino Carluccio, an expert in sustainable mobility, who illustrated the whole of economic and self-employment opportunities resulting from the creation of smart and efficient transport solutions and the improvement of public infrastructure and eco-sustainable services: a change in green transport sector would be, in fact, decisive for a sustainable economy, from every point of view, even economic.
The aim of the workshop is to encourage the creation of a Bike Hub that would make the town of Copertino a powerhouse for sustainable mobility and services - including tourism - aimed at full enjoyment of the territory.